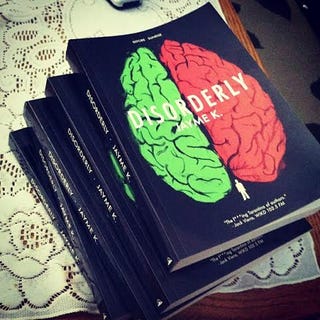 Every week (or so), we'll ask authors how they chose their book title. Today: Jayme K. on his novel, Disorderly.
Around the time I started writing my first novel Disorderly, I'd been listening to a lot of Joy Division. What kind of music you listen to, to an extent, reflects your temperament, so that band in particular set the tone for how I wrote the book. When it came to coming up with a title, I wanted something that would've felt like a forgotten song in Joy Division's catalog. Ultimately I picked 'Disorderly' for that reason, as well as the fact that it was a play on words (the protagonist suffers a peculiar 'disorder' that results in him committing acts of, what could be considered, 'disorderly conduct.')
Came to find out after the fact that there actually was a Joy Division song called "Disorder," and it was a damn good one.
Jayme K. is the author of the novel Disorderly, as well as numerous short stories, essays, and poems. He lives in Boston.
Submit your story to Inklings.Kinja@gmail.com. Or, follow Inklings on Twitter. We're also on Facebook.