Alt Lit is a term used to refer to a community of internet-based writers. You may have heard of some of its more famous figures, such as Tao Lin, Steve Roggenbuck, and Marie Calloway, but it's a vast and disparate community with no common aesthetic, tied together only by overlapping social groups and the use of the internet to promote and release writing.
To give you a further introduction, the following are some of my favorite individual works and writers: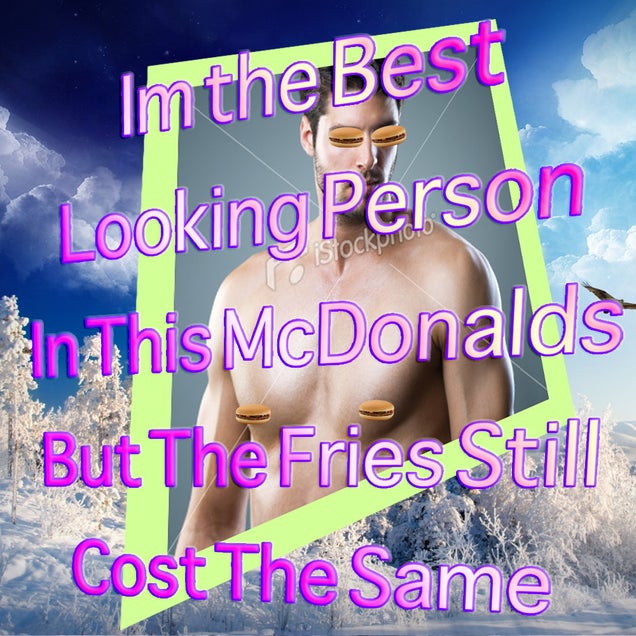 S
This is an ebook that was published in its entirety in the 4th issue of my magazine, Pop Serial. Heiko Julien is one of my favorite contemporary writers. He has a gift for condensing a lot of pop culture and an awareness of philosophical conundrums into witty and memorable sentences. Every line of his is not simply a nice-sounding phrase or a link in a narrative chain — rather, his sentences reflect an awareness of the bigger picture of human power struggles and the difficulty of connection. They are also frequently couched in the lingua franca of people who have spent most of their lives in front of screens. Julien has developed a striking new style of writing that shows the fear and sadness and absurdity and contradictions in our lives, yet seeks a way to love ourselves and others in spite of our weakness. Also, there's pictures! Specifically, image macros interspersed throughout the text. An image macro is an image with text over it, if you didn't know.
Ana Carrete was one of my first friends in Alt Lit, and she gave many people, including me, their first online publication via her inconsistently updated website, New Wave Vomit. Carrete writes about her life in straightforward language like many of her online contemporaries, but her playful demeanor and unpretentious poems belie a deep sadness, and her slightly strange presentation in videos like this and others creates an uncanny, odd feeling reminiscent of the weirdness in Miranda July's work. Carrete has a book out, Baby Babe, that I highly recommend as well.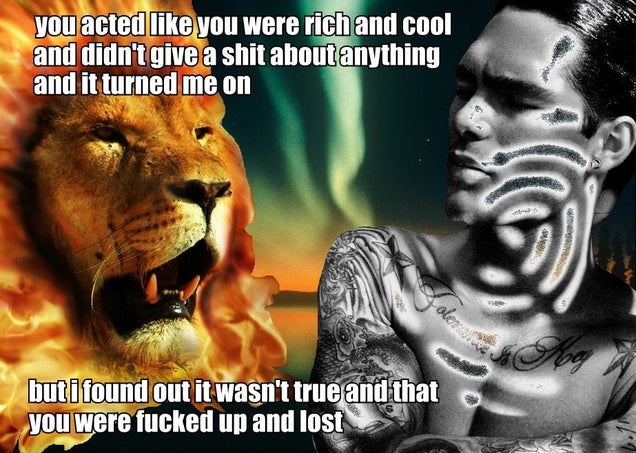 S
Michael Hessel-Mial is a poet and the editor of Internet Poetry, a publisher of poetry as screenshot, image macro, and other internet-based forms that was founded by Roggenbuck as a way to encourage non-traditional forms of poetry. If you're already familiar with Tao Lin and Marie Calloway and people published on Muumuu House, and you think of that when you think of Alt Lit, you might be surprised by the sassy, melodramatic comedy of these macros. And Hessel-Mial himself is a socially conscious, astute academic, in contrast to both these super-playful macros and the stereotype of the apathetic depressed hipster that some might associate with Alt Lit. In any event, these macros are amusing.
This is one of my favorite examples of what you might call confessional poetry, a popular type on the internet, poetry that depicts real experiences and emotions in an unadorned style. Kendra Grant Malone is, to me, still the best at it. I don't know why this poem about two close female friends sitting and talking together is so moving to me, but the final lines always make me choke up. It feels miraculous to me actually, how that can be done to you. I'm grateful for it.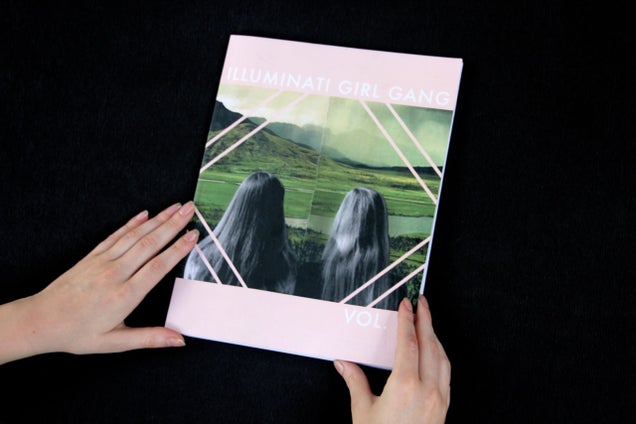 S
Photo by Thea De Gubernatis
Gabby Bess, an author now based in New York, started this girls-only lit mag that helps to ensure female writers get a suitable showcase. The design is always quality and there has been a diverse and fairly comprehensive roster of Alt Lit ladies in the mag's issues. Some highlights for me: Bunny Rogers's poems in issue 2, which are playfully ambiguous in tone and studded with striking lines; Maggie Lee's "XX," which I love for its conversational-language prose and touching portrayal of a tense parent/child relationship; "waking up in raval boulevard" by Luna Miguel, an unflinchingly gruesome but lyrical evocation of life's grotesquerie. Luna, an accomplished poet in her native Spain, has been a stalwart supporter of up-and-coming writers in the community and is an example of the international reach of Alt Lit.
Crispin Best is a witty, charming writer from the U.K. who has been involved in the online literature scene for longer than most. I've had the pleasure of hanging out with him and the equally witty and charming Ben Brooks, author, at 21, of six novels, and they're both top-rate guys. This poem is Crispin's most memorable to-date, in my opinion, a poem whose cute jokes and playful manner belie its romantic beauty.
Here's hoping Scott McClanahan's recent reading in Columbus, Ohio wasn't really his last reading, because he's super good at performing. And that's what it is, not a bland, staid recital but rather a performance, often with musical accompaniment and always with an earnest invocation to the audience, calling everyone present to actually be present in their short lives. Plus, McClanahan is a hilarious chronicler of relationships and behavior and a thematically classic author — as he was once described, "like a modern Gogol gone small-town U.S.A." I recommend Alt Lit-associated readings in general, as they are often more fun, casual, and non-deadly dull than the average lit event. If you're lucky enough to live in New York, Mellow Pages Library has a lot of readings and has a supremely chill, friendly, intimate atmosphere.
Sam Pink is an O.G. in the online-lit game and one of the best. His poems, stories, and novels are all impressive. They all feature a grimly sarcastic narrator living a poor, miserable life in Chicago. It's very funny writing, and the angry, cynical surface is punctuated with moments of deeply unsentimental beauty. This story, published online by Muumuu House, is inspiring to me, a slice-of-life tale that unfolds in three short scenes, each smaller than the one before, hilarious dialogue and mordant morbidity giving way to contemplation and a striking image of impermanence.
Lin is probably the most well-known of anyone associated with Alt Lit, and he has written in a variety of forms and styles, from emotional, highly stylized realist novels to sarcastic humor pieces to in-depth literary essays, but I think this piece demonstrates his sui generis quality — I don't think anyone else would write a humorous yet moving faux-field guide to depressed, antisocial hamsters who live in underground tunnels on the moon. Lin's sensitivity to emotion coupled with his cheerful sarcasm and verbal precision allows him to turn his feelings and imagination into a very creative comic fantasy.
10. "LIEF IS BEAUTFUL" by Steve Roggenbuck
"make something beautiful before you are dead" is Steve Roggenbuck's most popular video and something of a mission statement, and "Somewhere in the bottom of the rain." is, in my opinion, one of, if not his very best, poem to date; a poem to outlast any scene or fad, and there are any number of hilarious videos and striking poems I could link, but "LIEF IS BEAUTFUL," recorded shortly after Steve and I hugged and said goodbye and he departed Chicago, where we had become friends and lived together and where he began his transformation from Buddhist minimalist poet to hilarious, goofball vlogger and inspirational traveling poet, this video was recorded after that at his dad's farm in Michigan in the snow, as he prepared to set out on the road for the year of 2012, living with friends across the country on couches, setting the stage for greater recognition and, coming soon, his communal living project and publishing press, Boost House. But before all that, in December 2011, this video has the awesome humor and the disarming, profound earnestness for which Steve is celebrated. Steve's influence on and leadership within the Alt Lit scene and beyond is huge. If we all work as hard and care as much as he does, Alt Lit will see more great art and memorable moments and become more than a social community of aspiring artists. Regardless, the way the internet has allowed so many beautiful people to create and live together online is a blessing. (As you can see, Steve's not the only earnest one.)
Stephen Tully Dierks is the editor of Pop Serial.
Submit your story to Inklings.Kinja@gmail.com. Or, follow Inklings on Twitter. We're also on Facebook.